About Florida
The State:
Florida is a state of America, which lies in its southern eastern corner. Its position, close to the Caribbean, means that the state enjoys year round sunshine with warm summers and mild winters. The weather means its a perfect place for visitors seeking the sun, and/or palm fringed sandy white beaches. Whilst being 2-3 driving hours in width and around 6 driving hours in length from Orlando to Miami, the whole of the state and the features it has to offer is easily accessible to everyone.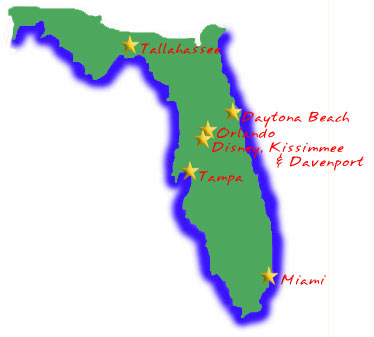 Climate:
Florida is a semi-tropical climate, which can experience extremely hot and humid conditions in the mid-late summer months, with temperatures and humidity in the high 90's. The winter months however, are much more mild and temperate. Temperatures are comfortable, and are slightly below room temperate, with humidity at much more tolerable levels.
Month
Average High
Average Low
Rainfall


(F)
(C)
(F)
(C)
(in)
(mm)
Jan
72
22
49
9
2
51
Feb
73
22
50
10
3
76
Mar
78
25
55
12
3
76
Apr
84
28
60
15
2
51
May
88
31
66
18
4
102
Jun
91
32
71
21
7
178
Jul
92
33
73
22
8
203
Aug
92
33
73
22
6
152
Sep
90
32
3
22
6
152
Oct
84
28
65
18
3
76
Nov
78
25
57
13
2
51
Dec
73
22
51
10
2
51
Passport and Entry:
All travellers to Florida normally require a passport that has at least 6 months left to run, after the traveller's planned return date. Also, from 1st October 2003, there are two new changes. Firstly, ALL travellers, regardless of age, will need an individual passport in their own name. ALL passports will need to be "Machine Readable". For UK passport holders, this means they to be 10 year or 5 year for children, new-style small, red passports. To check your passport is machine readable, check that the picture page of your passport has digits followed by a series of ">>>>>>" characters. If you do not own a "Machine Readable" passport, you will need a visa prior to arrival. There are certain exclusions and restrictions. If you have been refused a visa, or hold a criminal record, please check with your local US embassy before travelling.
UK passport holders are eligible for the "Visa Waiver" program. Not all countries qualify, so you should check
here
well in advance to see if you need a US visa prior to travel. If you are travelling under the visa waiver program, you will need to fill out two forms, that your airline will provide. These are the green I-94W, entry/departure record, and the white customs form, that all travellers are required to fill out.
Visitors travelling under the Visa Waiver program, are eligble to reside in the US for upto 90 days in any given trip. All travellers must have a valid exit ticket on arrival, that is less than 90 days from their arrival date. There are no restrictions on the number of times a year you can enter the US under the Visa Waiver program, but the traveller must be able to prove to the immigration official that he/she is financially solvent and intends to leave within 90 days.
*** While we try and be as helpful as possible, all countries have their own sets of rules, regulations and restrictions and are liable to change at any time. We
strongly
suggest you contact the local US Embassy in your country about passport, immigration and innoculations before you travel. We are offering this advice as guide only and allows no legal redress if proved to be inaccurate or misleading ***
Useful advice:
Traffic lights: In the US, you are allowed to turn right on a red light, unless there is a specific "No Turn On Red" sign.
Gas Stations: Some gas stations require you to pre-pay, or use a credit card before you start pumping.
Use travellers cheques rather than cash; Virtually everywhere accepts them with ID, and they can be replaced when lost, and not used when stolen.
To get from Orlando Internation Airport to the villas, requires the use of the toll road. Ensure you have either small denomination bills, or quarters for the tolls (75c and 50c), before the leaving the airport.
Ensure you have adequate medical and travel insurance, as medical bills can be very high. It is worth checking to see if your insurance coverage includes air ambulance coverage, so the injured could be flown home if need be.
All the prices displayed in shops in Florida are shown exclusive of sales tax. This is added at the checkout, so products can cost more than you first think.
Make sure you keep at least one credit card separate, preferably in the safe in the villa, if applicable. So, if you do lose your wallet/purse, you have a backup.
Always keep your passport and travellers cheques in separate bags. Travellers Cheques cannot be cashed without a passport ID.
Do you know of a tip that you would like to pass on to a fellow traveller? Please submit it
here